Interior design is one of best way to make your home looks attractive with some of creative design. But due to many of reason, we can't afford to buy one big space house with fully interior finishing. Many of affords to buy small space house, so we going to tell you some best interior design idea for small house, which help you to make your home into one of dream house.
Keep It Light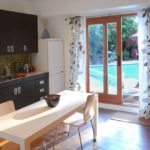 To make your space furniture large, avoid using such thing like dark lighting, dark wall color & dark color of furniture. Avoid using dark color of cloth, which is going to cover house window or you can keep it open. Light color will give you fresh felling, positive energy.
Curtain Divider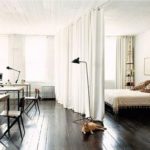 A simply, curtain is the best way to divide house space. Use any silk curtain, which gives you wonderful look. Apart from curtain, if you going to build any wooden or concrete wall then it will take house space for wall.
Curtain is best way to divide house space with low cost and also gives flexibility to remove divider.
Multipurpose Space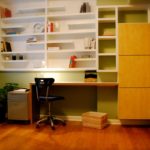 In the small space house, we must need to create one space which works as the multipurpose like space can become home office, guest bedroom, store space etc.
To make multipurpose space, use surrounding wall and design according image. You can add small size of all furniture in multipurpose space like wall selves, chair, desk, dustbin & small green Plant.
Home Office Nook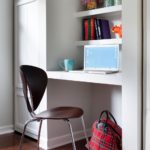 Whenever you dealing with small space house so don't waste any unused space and find the best nook between two small closets space, that can you make home office. Using small shelves above the desk give the extra space to display & store the books.
Just one more thing put your working laptop on the desk and other helpful thing also.
Clever Kitchen Storage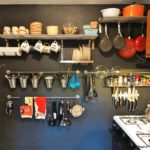 In house kitchen, there are so many thing to store but storage but be eye-catching and open space storage in kitchen. If you don't have any idea about perfect kitchen storage then you can take advice from the Elevation Interior which is best interior designer in Mumbai. They also have professional interior design team, which is assigns you best service.
Add a Mirror & Lighting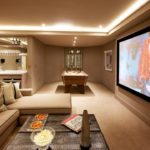 Adding a mirror is best way to make your small space house into the large space of house with help of mirror visual. Use the mirror in a such way, which is closer to the curtains for perfect visual.
Lighting will help to enhance the visual look and use different color of lighting according to house wall.
If you looking any help from expert then contact Elevation Interior, which is top interior designer in Mumbai.